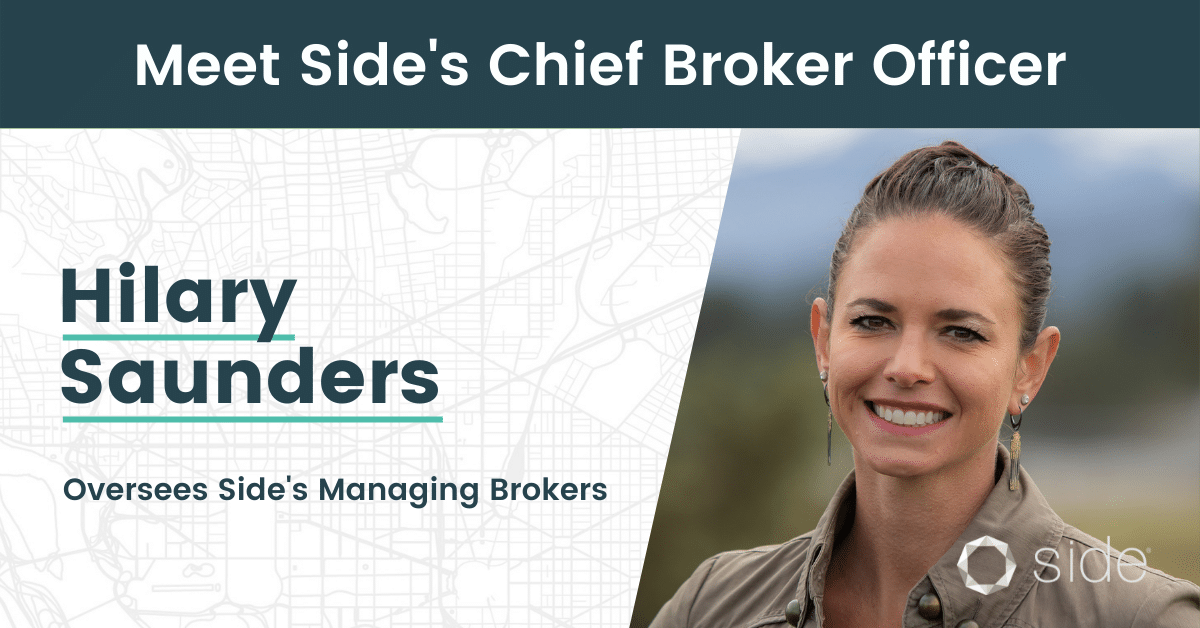 Hilary Saunders knows exactly how hard it is to grow a real estate business without the proper support. That's why she joined forces with Guy Gal and Ed Wu to create Side, where she now oversees a team of industry-leading managing brokers as chief broker officer.
We caught up with Hilary to learn more about her history in real estate, what her team of managing brokers does differently, and what she's most excited for as Side continues to expand.
You have a unique background, in that you're a licensed broker and you have a law degree. What prompted the shift from law to real estate?
I wouldn't call it a shift so much as a natural continuation — I draw on both my law and real estate backgrounds every day at Side!
When I was in law school, I specialized in real estate law because I loved combining the legal intricacies of the transaction with the genuine passion I have for people and real estate. After a while, I discovered that I didn't love litigation, but I did love putting a deal together. So I pursued the broker route instead, and my legal background brings a unique compliance perspective to everything I do as a broker.
How did you, Guy Gal (Side's CEO), and Ed Wu (Side's CTO) decide to start Side?
When I met Guy and Ed, I had literally just been through the same experience that many of our Partners go through prior to joining us ~ I had left the big box brokerage and started my own boutique. I felt the pain and saw how the industry was broken. I knew firsthand how little true, meaningful support agents receive from the traditional brokerages, because I had been there.
Guy and Ed first approached me as they were researching the industry and inquiring how technology could be used to streamline the transaction process itself. What was to be a 15 minute coffee, turned into a 2+ hour deep dive into all of the areas where we could together, really change the industry and provide a meaningful solution to top-producing agents. My passion and major desire to make an impact came from the first-hand experience of not being great at things like: back office, web-design, CRM, marketing, etc. Most elite agents are excellent at providing top-notch and unique service to their clients, but are not proficient (nor should they be) at the other 80% of things that go into running a successful brokerage.
What was to be a 15 minute coffee, turned into a 2+ hour deep dive into all of the areas where we could together, really change the industry and provide a meaningful solution to top-producing agents.
The question then became: "Can combine the technology solutions with white-glove service that takes those other 80% of tasks off their plates?" And that's how we got started.
What can Side partner agents expect from their managing broker team?
You can expect the near-immediate support of, and access to, transaction and compliance experts with years of experience (and who are fun to work with). If you reach out to the managing broker team with a question — maybe you want help writing a complex counteroffer or navigating new local forms, or you need support getting a transaction over the finish line. We are available to you within minutes.
We're able to respond that quickly because our managing brokers don't have to worry about the laundry list of to-dos people in their position face at traditional brokerages: recruiting, marketing, P&L statements, etc. Side has teams of specialists who focus on their specialties and allows our managing brokers to do what they are passionate about: providing white-glove service and support to our licensees.
What are you most excited about for the year ahead at Side?
As an Oregon native, I am personally invested in our expansion into the Pacific Northwest as my family and I have moved back to Sisters to raise our kids in my hometown. Last year, we more than doubled the number of company-wide transactions from the prior year. And we expect to expand further on that growth again in 2022!
I'm so excited to bring Side to new states, to learn the intricacies of their markets and help give even more top-producing agents their time back so they can focus on doing what they do best and what they truly desire doing.